Jagvir Matharoo and Martino Caramia: 'People come to our stores for not just a piece of clothing, but a way of life'
Jagvir Matharoo and Martino Caramia: 'People come to our stores for not just a piece of clothing, but a way of life'
IF you are a true connoisseur of travel in Goa, you have to have shopped at The Flame Store. Its founders Martino Caramia and then joined by his partner (and now husband) Jagvir Matharoo are icons of the Goan way of life, truly embodying the spirit and lifestyle of the sunshine state. Theirs is a wonderful example of how the personal meets the professional, even as they share their style and tastes with their shoppers.
The Flame Store, a bohemian clothing space with some curated clothes and others designed by Caramia, started at Thalassa restaurant, Vagator, in 2010. The destination restaurant's popularity gave the store a steady and trendy clientele, and brought uber pan-Indian labels like Ensemble and Good Earth to start stocking here. The Flame Store then opened in Candolim in 2015, where it sits today. Matharoo has also joined in. It's a huge and lovely space, and allowed for an expansion into home and beauty too. In 2018, the duo opened Elevation, a slightly more muted and sophisticated space at Sangolda. It has its own handwriting, they explain, and is distinctly different from Flame. They added to their bouquet Maison du Voyage, in Assagao, last year, which they call their most beautiful store. It's decorated like a Parisian artist's apartment with artistic collectibles, perhaps in the 1920s. "We didn't look for any of these locations, it's almost like they were all served to us," Caramia smiles.
With Goa occupying a huge part of the cultural conversation today, thanks to a massive boom in its real estate and F&B scene, the influence of Caramia and Matharoo has escalated. It's almost as if the universe conspired to making them the design stars they are today.
"I was making sketches since I was eight, so I knew fashion was always on my mind," Matharoo, 40, says. Raised in Mumbai, NIFT was his calling, he says. "It was a great foundation and had great faculty back then. Then, I began working at an export house and gained a great understanding of the business of fashion. Somewhere across the world, Caramia discovered his grandmother's vintage Singer sewing machine when he was all of seven. Soon enough he made himself "Alibaba pants" out of a cushion cover, and that sowed the seeds of his wanderlust as well as fashion design. The half-german, half-Italian moved to Ibiza for a decade, and California for a bit, only to come to India, discover a new world, and fall in love with Indian textiles. "They were the future for me," the 50-year-old says.
The just-married couple met at a fashion week in Mumbai 11 years ago. So many of us were around during their meet-cute moment, in the smoking area of the Grand Hyatt hotel venue. "Those were the golden years of fashion week, where as much creativity would take place outside the shows as inside," Matharoo smiles. "I asked him for a cigarette and it was love at first sight."
There's also a great element of sun-chasing for both of them, explaining the move to Goa. Caramia had already moved here from Europe and started the store here. Matharoo followed him soon and joined the business. The stores are such a global traveller's haunts, in a bohemian, artsy and insouciant way. Both are stellar designers too, and their inhouse label makes up for more than 70 percent of the stores' sales.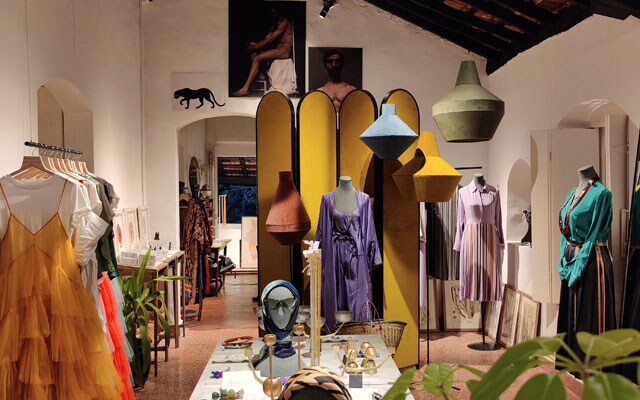 "Our design is largely based on the life we want to live," Matharoo explains. "We love beautiful spaces, surrounded by the sea, great food, good looking people. Our sensibilities also bring in different cultures to Goa. People come to our stores for not just a piece of clothing but a way of life."
Right from the start, Caramia and Matharoo have believed in supporting young stylish labels. Their focus is usually on those that use natural fibres. "Many of these are designers who don't have any other platform, but are motivated to developing new products, even in beauty," Caramia says.
Their penchant for natural fabrics leads them to artisanal fashion. Matharoo says their inhouse label uses only natural and handwoven textiles from Gujarat, Rajasthan and Bengal. "We consistently buy from the same vendors and ensure they are constantly working. We don't make one collection and move on," he adds. Caramia agrees: "We are interested in techniques that are even 1,000-years-old, whether its in weaving or hand-blocking or even ayurveda. We live healthy, mindful and organic lives ourselves and want to introduce the same aspects into the products that we offer."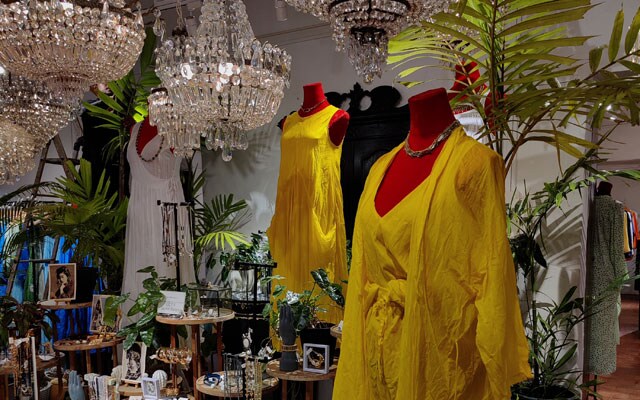 Goa lends much authenticity to their lives. They have been at the forefront of the state's revival, as when they moved more than a decade ago, it was still a sleepy town with barely one or two stores here. "The market has certainly changed. There were 70-80 percent foreigners and the rest were Indians, and now those numbers have reversed. So we went from catering to a European clientele to an Indian one. We have had to evolve," Matharoo says. "But India is evolving too. We have only paid more for occasion wear, and designers have only made bridals to stay alive. Now we see someone like Sabyasachi, who has stood the test of time, reinvented the curve with amazing stores and new product categories."
The designer-entrepreneur duo still believes in the good-old brick and mortar model of experiential shopping. "We haven't cracked online yet, but it's definitely on the agenda," Matharoo says.
Caramia adds: "We are not in a hurry, we prefer sharing our personal lives and tastes with whoever walks into our stores."
Namrata Zakaria is a seasoned writer and editor, and a chronicler of social and cultural trends. Her first book, on late fashion designer Wendell Rodricks' Moda Goa museum, is due to be published shortly. Zakaria is especially known for her insider's take on fashion, luxury and social entrepreneurship in India. Her writing is appreciated for shaping opinions, busting myths, making reputations and sometimes breaking the odd career. Zakaria is also involved in putting together philanthropic efforts in the field of economic and environmental sustainability.
Read all the Latest News, Trending News, Cricket News, Bollywood News, India News and Entertainment News here. Follow us on Facebook, Twitter and Instagram.