Lena Ladakh: 'Women should be better contributors to the economy of the household'
Lena Ladakh: 'Women should be better contributors to the economy of the household'
SOMETIMES the greatest ideas are those borne at home. This is how Stanzin Minglak and Sonam Angmo founded Lena Ladakh in 2016, a homegrown pashmina label that unwittingly is also an all-woman enterprise.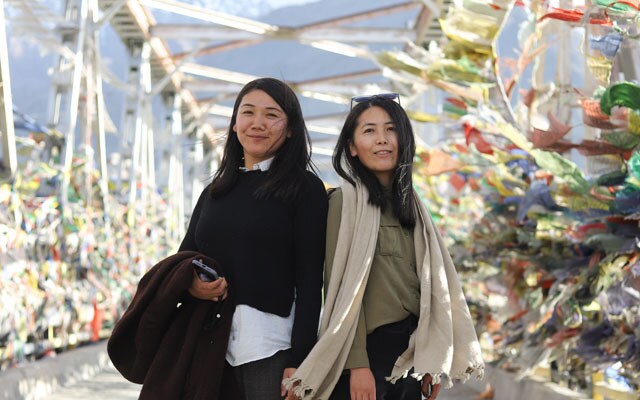 "I had spent 10 years studying in Delhi and had finally finished my Masters in Biotechnology. But I still had no idea what to do next. My father worked at the handloom department of the government and suggested I start a business in pashmina and handlooms. I wasn't interested in a business, I thought it wasn't for Science students. But I had read about creating start-ups and how exciting that would be. I studied the history of Ladakh and found it to be at the centre of the Silk Roads, the world's most famous trade routes. Pashmina was its most important resource and I wondered why this independent country at the time didn't make any finished products, only provided raw materials," Angmo, 34, says. Minglak, also 34, echoes: "I am the first entrepreneur in my family. I had spent a month with the nomads in Ladakh as part of my Masters' thesis, and I always preferred working with communities to learning from books."
Lena Ladakh is an unusual pashmina label. Unlike the gossamer-thin, pass-through-a-ring wafts we understand as pashmina, Ladakh's pashmina is much thicker. "We had to change the mindset of the customer first. Our pashmina is a different product. But it is 100 percent handmade, so its purity is intact. Unlike the lightweight pashmina, this is not exposed to other fibres either," says Angmo. "It was important for us to give Ladakhi pashmina its own identity," says Minglak. "No one knows much about it." Lena, means pashmina wool locally. Eighty percent of Lena's products are in pashmina, but they also have home decor items made of yak or sheep wool too.
Lena's core is based on slow fashion. They believe that all their production processes should be entirely by hand, right from the cleaning of the wool, to the spinning, dyeing, weaving and pressing of the fabric. The textile must be meaningful to the maker as well as the wearer. "There are seven or eight steps in our production cycle. We buy cleaned pashmina from a local cooperative society in Leh, and we give a handful to different artisans in different villages for spinning it. It takes a day to spin 25-30 grams of pashmina. Enough yarn for a shawl takes 10-15 days. Sonam and I dye the yarn ourselves at home. We use marigold, walnut, and such natural resources for colour. We don't have pinks or reds locally available, and we also source indigo and madder from outside Ladakh. Our studios have the fly shuttle loom where it takes two weavers four or five days to make one shawl. We prefer the ancient techniques of making cloth, without machines. Then we wash and hand-press the shawl.
The Northeast of Ladakh is at the China border, and ecologically among the harshest climates in the world. The Changthang community has many nomadic tribes within. Lena works with the Kharnak nomads, who migrate seven-eight times a year from one pasture to another, taking their livestock with them. "They have 300-400 goats and yaks. They get wool from their livestock. They use yak wool to make tents, rugs, ropes, saddle bags and even some clothing items. They are very self-sufficient," Minglak explains. "Young nomads don't want to live this hard life, so they move to Leh and want to be a part of the modern world. The nomads have no medical facilities, they would have a teacher migrating with them but now there are no teachers who volunteer for this. Younger nomads are losing touch with their own culture, their textiles and even their songs."
The Kharnak nomads are shepherds and entirely dependent on livestock. "Their only source of income is wool," Angmo says. "Other communities have tourists visiting, so they make money on homestays or camps. The Kharnaks live so close to nature and entirely dependent on nature."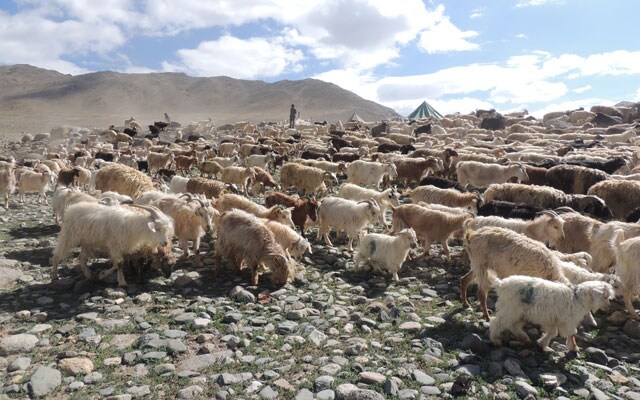 Since most of the men in the region are on to more industry-related or service-oriented activities, Lena ended up training and employing Ladakhi women instead. "The women were skilled but didn't see much income in their work, so were not encouraged by it. Pashmina brings them more money. Now they are willing to learn new skills too," the founders discovered. Lena started with seven weavers, and now employs 34 of them. Each one has a different role in the production of the shawl, either the cleaning, the spinning or weaving. "They work from the studio or from home, depending on the weather. It gets too cold to work in the winter and we close our studio for one-and-half months each year. We also pay them per piece, and not per day, so they have the flexibility of patterning their own schedules. We also believe in paying a little more than what they would make elsewhere. A lot of people believe that it is a successful business tool to pay less for employees but we think women should be better contributors to the economy of the household," they agree. "We tell them we only want great quality, and they remain loyal and dedicated to their work." Lena shawls retail between Rs 45,000-Rs 55,000 each, while their mufflers cost Rs 17,000.
Unlike fine pashmina that is high maintenance, Ladakhi pashmina gets better with use. Lena only sells from their standalone store in Leh. But they have begun to collaborate with some international stockists and designers. Example, one in San Francisco makes pashmina blankets, another client takes pashmina yarn for knitting. "One kilo of pashmina costs Rs 15,000, so we don't make anything in bulk. But whatever we make sells easily. We produce small quantities and slowly, but it's of very high quality" Minglak says.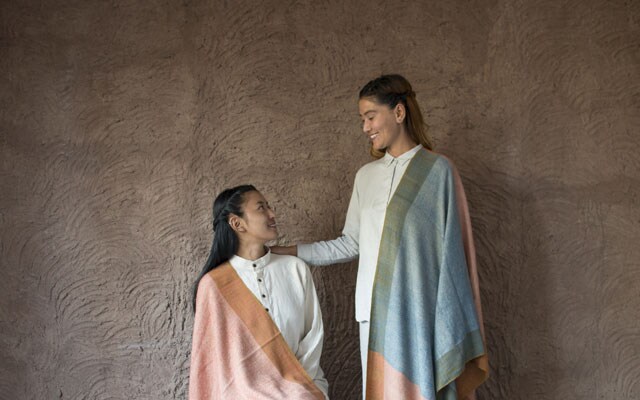 "Our wardrobes are overflowing with needless clothes," Angmo avers. "Besides, it is important to us that our ethos resonates with our clients."
Namrata Zakaria is a seasoned writer and editor, and a chronicler of social and cultural trends. Her first book, on late fashion designer Wendell Rodricks' Moda Goa museum, is due to be published shortly. Zakaria is especially known for her insider's take on fashion, luxury and social entrepreneurship in India. Her writing is appreciated for shaping opinions, busting myths, making reputations and sometimes breaking the odd career. Zakaria is also involved in putting together philanthropic efforts in the field of economic and environmental sustainability.
Read all the Latest News, Trending News, Cricket News, Bollywood News, India News and Entertainment News here. Follow us on Facebook, Twitter and Instagram.