Wendy's menu adds a surprise new take on a beloved burger
Customers are going to love it — but they should be prepared to pay way more than they would for a McDonald's Big Mac or a Burger King Whopper.
When Wendy's brought back the Peppermint Frosty, customers assumed that that was the chain's big change for the holiday. 
A new Frosty flavor may seem like a small thing, but from 1950 through 2006 the chain offered only its classic chocolate Frosty. When it added a vanilla version in 2006, the chain had to add a second Frosty machine to its restaurants. To bring on a new flavor, the company now has to shelve either vanilla or chocolate.
Since it would be shocking if the chain took chocolate off the menu, that means removing vanilla. And that's something Wendy's (WEN) - Get Free Report first did in 2022, when it added a Strawberry Frosty to its menu.
Related: Taco Bell, McDonald's menus bring back fan-favorite items
So, it's not a small decision to replace the vanilla Frosty with a peppermint one, and customers would forgive the company if that was its big holiday change. 
Instead, Wendy's has made a surprising move that will bring a new version of one of its signature burgers to menus nationwide.
The biggest surprise, however, may be the price for this new burger relative to what McDonald's (MCD) - Get Free Report and Burger King  (QSR) - Get Free Report charge for their best-known burgers, the Big Mac and the Whopper.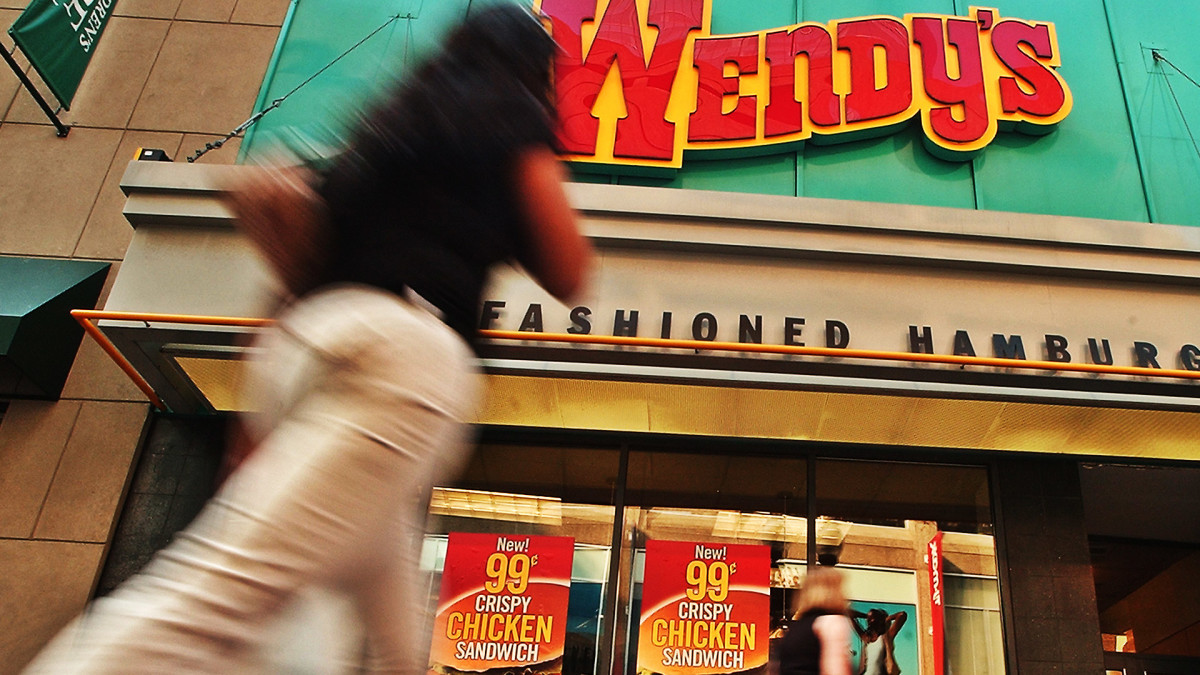 Wendy's has a new type of Baconator      
Wendy's came to the signature sandwich game a little late. The chain released the Baconator in 2007. That's 50 years later than when Burger King first put the Whopper on its menu and 40 years behind McDonald's Big Mac.  
The Baconator quickly became a fan favorite and the company shared its now-iconic recipe on its website.
"In 2007, Wendy's stacked two fresh beef patties and paired it with American cheese, six slices of Applewood smoked bacon, and a soft bun. The iconic Baconator – the best way to eat a double bacon cheeseburger – was introduced for those Wendy's customers who wanted even more craveable burger options," the chain shared.
Now, Wendy's is pitching a new take on its classic sandwich that borrows the bun from another fan favorite, the Pretzel Bacon Pub Cheeseburger. That new item, the Pretzel Baconator, has quietly begun appearing on the chain's menu at participating locations nationwide.  
"The Pretzel Baconator features a half-pound of fresh, never-frozen beef (two patties), American cheese, six strips of applewood-smoked bacon, ketchup, and mayo on the brand's signature pretzel bun," Chew Boom reported.
ALSO READ:
Baconator costs a lot more than a Big Mac, Whopper
It's important to note that fast-food chains use different prices in different markets. A location in a market with a $15 minimum wage might charge higher prices, and outlier locations like airports and rest stops — where rents are high and customers have limited choice — may do the same.
The original Baconator, however, generally sells for a little over $9 while the Pretzel Baconator will sell for a little more.
"While prices vary, the new Pretzel Baconator is available a la carte at my nearest Wendy's for $10.19. It can also be enjoyed as part of a combo served with a side of medium fries and drink for $15.79," Chew Boom reported.
The McDonald's Big Mac sells for $5.69 on its own and Big Mac meals start at $9.99 in the Port St. Lucie, Fla., area. Burger King's Whopper costs a little bit more in the same market with the sandwich coming in at $6.19 while the Whopper meal costs $12.08.
The Wendy's Baconators, however, do offer more meat (a half pound before cooking) than either the Whopper or the Big Mac. 
McDonald's and Burger King both offer half-pound sandwiches — the Double Quarter Pounder with Cheese ($7.89) and the Double Whopper ($6.99) — which are more expensive, but still cheaper than Wendy's signature sandwich. 
What's Your Reaction?