EXCLUSIVE Interview: Richa Chadha, Varun Sharma and Pulkit Samrat talk on Fukrey 3
EXCLUSIVE Interview: Richa Chadha, Varun Sharma and Pulkit Samrat talk on Fukrey 3
After the brilliant performances of all the casts of Fukrey 3, Firstpost's Lachmi Deb Roy caught up with Richa Chadha, Varun Sharma and Pulkit Samrat for an exclusive interview. Fukrey 3 as Richa Chadha rightly says starts from where they left. This film is an emotional journey for not only the actors, but the audiences too. Varun Sharma, who plays the most loved character, Chucha felt like they were coming back to their roots.
Edited excerpts from the interview:
Six years and coming back with Fukrey 3, how have you all been? 
Richa Chadha: Very well.  As excited as we were six years back.  As enthusiastic as we were six years back.  Ten years back actually when we did Fukrey first.  As enthusiastic as we were in 2013, then 2017 and now.
Pulkit Samrat: There's a new term that we are feeling called anxiety. So we are full of anxiety also because we want the audience to watch it and appreciate it. They should find it as interesting as the earlier one.  And we are so excited also because we know it is as interesting as the earlier one.
How have your roles evolved, Richa? 
Richa Chadha: The third part of Fukrey continues from where we left off.  Which is at the end of the second part.  These two characters (Varun Sharma), they have a little moment where they kiss.  And one character leaves in a car.  One character gets married and is not in the film.
Varun Sharma: You know, so we have just picked up from where we left off the last time.  So it may have taken six years to get it all together.  And we have lost a few years due to COVID as well.  But the story essentially has progressed only six months to one year.  So we pretty much continue.
All your performances were brilliant in Fukrey 3 like the way you did it in one and two. What was the preparation for the role like?
Richa Chadha: As people might think, you have already done this twice, so it's very easy for you to do it. But no, when we go back to it, we again have to watch part one.  We again have to watch part two.  Then we have to understand, oh, is it the same sur (rhythm) that was there in the part one and part two?  Are we doing it correctly?  No.  Maybe not, maybe yes. But then we get these, you know, feedback from the director, very blunt feedback.  And we get to know, oh, no, we have travelled a long way.  We had to unlearn everything that we have done over the years and come back to the roots.
Pulkit Samrat:  So every time we come back to Fukrey, I feel we come back to our roots.  We again get grounded and we get recharged to do a lot of more work after this.
Varun Sharma: For me Fukrey was my debut film.   And then my craft was very raw at that time, I was 22 that time when I kind of ventured into the film industry.  So everything was very raw, I didn't have the understanding of the business, didn't have much understanding of films, didn't have the technical knowledge of a film set, how it all functions etc.  So everything was very raw and new for me.  I was just an excited child on set, doing what he loves doing and following instructions and doing the same thing.  Then over the years, from 22, I became 32, 10 years of life happened, 10 years of experience happened, 10 years of working happened, 10 years of meeting a lot of people happened.
Obviously it kind of impacts the thought process.  You mature as a human being, you mature in your craft, you mature in your working, you grow and, you know there is a lot apart from physical changes, there's a lot of mental changes that happen, right?  So everyone, I've been asked so many times when we were doing the third part, even when we were doing the second part, more when we were doing the third part, that "Varun, you are the going back to Chucha.  Chucha will be in your blood, brother. I mean, he can do it standing up.  But it's not like that." We all know that we have changed as human beings too. So, our craft has also matured.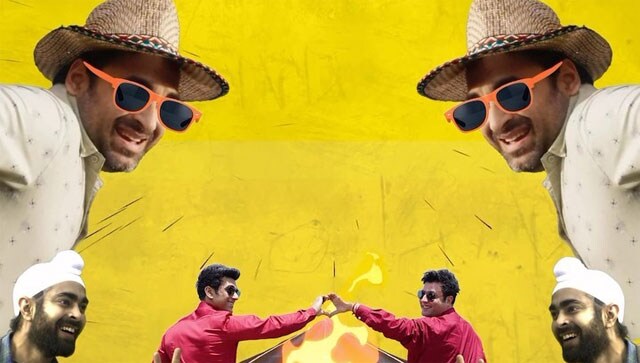 The story has only progressed about six months to a year.  It is not that the same characters are put in a different setup altogether, or it's a different film altogether, it's a continuation.  So the rawness is the same, the innocence is the same, the physicality is the same, the nuances are the same.  So I had to, all of us for that matter, but if I'm talking for myself right now, I had to unlearn the ten years of experience that I gained as an individual,
And the same thing, our director, Mrigdeep Singh Lamba, he's one of the finest directors we have in the country,  and we're very fortunate to have worked with him.  If you like chucha, 80% is Mrigdeep Singh Lamba. And I have no such thing because I keep telling him, he is like my godfather.  He's the man who's given me birth in the industry and who's kind of nourished the talent that he saw and kind of gave it that break.  He knows more about me than I know about my own self professionally when I'm performing.  So I just left it on to him and he got it done.
Richa: I feel a lot of pressure.  After you have played a character, the same level. The expectations of the audience are also very high.  You see, matching the wavelength, you have to put that character back in your skin.  So that was always a pressure.
Pulkit: We really hope that we've done justice in the third part as characters.  We really hope that we've done, we have given them what our audiences were expecting.  And we have, we've made this film in all honesty.
What about you, Richa? How has your role evolved?
Richa: Bholi Punjaban of course went from being a small-time thief, to a big-time thief.  Now she's a goon.  So she wants full control, and she wants total monopoly, and she as you know, whatever ministry she's fighting for, she'll try and totally control it and deprive everyone else of that resource.  So there's that evil streak in her for sure.  But I think Fukrey toh wo bhi hai, she keeps listening to you guys and coming back and believing your weird dreams and believing your weird gifts from God.  So I guess the evolution is just in that she's gotten greedier!
Read all the Latest News, Trending News, Cricket News, Bollywood News,
India News and Entertainment News here. Follow us on Facebook, Twitter and Instagram.
What's Your Reaction?