2002 Gujarat Riots: Who is Maya Kodnani, former BJP minister, now acquitted in Naroda Gam massacre?
2002 Gujarat Riots: Who is Maya Kodnani, former BJP minister, now acquitted in Naroda Gam massacre?
Maya Kodnani must be finally heaving a sigh of relief. A special Ahmedabad court on Thursday (20 April) acquitted all 68 accused, including her, of murder, criminal conspiracy and rioting in the Naroda Gam riots that took place 21 years ago in the aftermath of the 2002 Gujarat riots.
The Naroda Gam case was among the nine major riots in Gujarat following the burning of the Sabarmati Express in Godhra on 27 February 2002. A day after the burning of the train, 11 Muslims were burnt to death after mobs set their houses on fire in a locality known as Muslim Maholla, Kumbhar Vas, in the Naroda Gam area of Ahmedabad.
But how does Maya Kodnani, a gynaecologist by profession and a Bharatiya Janata Party (BJP) leader and minister, fit into this? We trace the rise and fall of Kodnani.
The rise of Maya Kodnani
The 67-year-old Maya Kodnani was brought up in a small town, Deesa, between Ahmedabad and a popular pilgrimage spot Ambaji in Banaskantha district. She studied in a Gujarati-medium school set up by her father. He had settled down in the town after fleeing in 1947 from the Tharparkar area of Sindh province, now in Pakistan.
After her schooling, she enrolled herself in the Baroda Medical College to pursue MBBS, followed by a diploma in gynaecology and obstetrics.
It was around this time that she also joined the Rashtriya Sevika Samiti, the Rashtriya Swayamsevak Sangh women's wing. She later moved to Ahmedabad and set up the Shivam Maternity Hospital in Kubernagar in Naroda.
Kodnani took her first step in politics in 1995 with the Ahmedabad Municipal Elections (AMC). She was appointed as AMC Standing Committee's first woman chairperson in from 1997 to 1998. In 1998, Kodnani won as an MLA from the Naroda constituency, defeating the Congress candidate by a margin of over 74,500 votes.
Also read: Maya Kodnani acquitted in Naroda Patiya riot case: A look back at RSS poster girl's journey
The Gujarat riots of 2002 did nothing to weaken her political clout and she won the 2002 elections by over one lakh votes. In 2003, the BJP elevated her as president of the BJP unit in Ahmedabad. She continued to witness a rise in her standing in the party and in the political arena when she got elected to the Assembly in 2007 – with over 1.8 lakh votes
Narendra Modi, who was serving as chief minister of Gujarat then, inducted her into his government and she became Minister of State, Women and Child Development and Higher Education. With this, she became the first Sindhi leader to be a Gujarat minister since the state was founded in 1960.
The Gujarat riots and Kodnani
Her political career came to an abrupt stop when the Supreme Court set up a Special Investigation Team in 2008 to probe the nine worst post-Godhra riot cases, which included the Naroda Patiya and Naroda Gam cases too.
According to the SIT, Kodnani was present at the incident site for around 10 minutes and had left after "instigating the mob". The SIT also stated that those who placed her at the Gujarat Assembly in Gandhinagar, or at her hospital in Ahmedabad or at Sola civil hospital that day were "only trying to save her".
Naroda Gam wasn't the only legal trouble that Kodnani faced. She was also given a life term and dubbed a "kingpin" by a sessions court in the Naroda Patiya case. Naroda Patiya, a neighbouring area of Naroda Gam had on 28 February 2002 seen Hindu mobs attack this Muslim-dominated locality, in which officially 97 people were killed.
However, in 2018, a division bench of the Gujarat High Court, comprising Justices Harsha Devani and A S Supehia, acquitted Kodnani and 17 others in the case. By then, Kodnani was already out on bail, on medical grounds.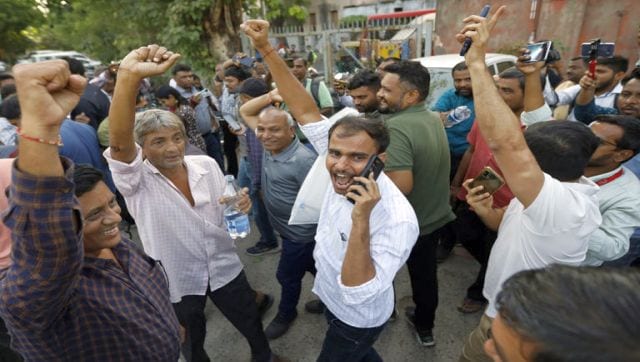 Life after riots
During the 2022 Gujarat Assembly elections, Kodnani, who still has support with the BJP cadre, was seen campaigning for a few candidates. But, the former BJP minister has been low-profile since being acquitted in 2018.
On Thursday, when the court acquitted her in the Naroda Gam case, cheers of 'Jai Shree Ram' rung out loud in the air. Inside the court, according to a report by the Ahmedabad Mirror, Kodnani folded her hands and said, "I touch the feet of the court. I was innocent in the case and got justice."
On stepping out of the court building, she was once again quoted as saying, "I have nothing to say. I just want to say thank you to God with folded hands. Just haath jodu chu, Ishwar no abhaar, parmatma no abhaar (I stand with folded hands and grateful to God)," she told Mirror at the court complex after coming down from the 8th floor.
Her acquittal also led to questions of her joining politics again. "I don't think she will fight elections now, but even if she decides to do so, I'd say, 'Why not?' She has faced trial in both the cases and has been acquitted by the courts. She enjoys immense respect and popularity among party workers," a senior party leader told the Indian Express.
With inputs from agencies
Read all the Latest News, Trending News, Cricket News, Bollywood News,
India News and Entertainment News here. Follow us on Facebook, Twitter and Instagram.
What's Your Reaction?