Uber Eats has a privacy issue with its robot delivery fleet
Privacy advocates may have a big issue with what an Uber Eats contractor is doing in L.A.
It seems the more convenience modern technology provides for us the more privacy it demands in return.  
With everything from homes with internet connected security cameras to each Tesla  (TSLA) - Get Free Report with multiple outfacing cameras, the modern person is recorded much more often than they probably realize. 
Related: Here's the good and bad news about Google's massive privacy settlement
Autonomous robots seem to be the wave of the future in the service industry as businesses look for ever more advanced ways to limit human interaction with their customers. 
Ride-hailing service Uber  (UBER) - Get Free Report has seen a lot of success with its Uber Eats offshoot that allows people to order food from  a seemingly endless list of restaurants from the comfort of their own homes. 
In order to limit the human interaction even further, Uber Eats teamed with Serve Robotics and its fleet of autonomous delivery robots to serve its customers in Los Angeles earlier this year.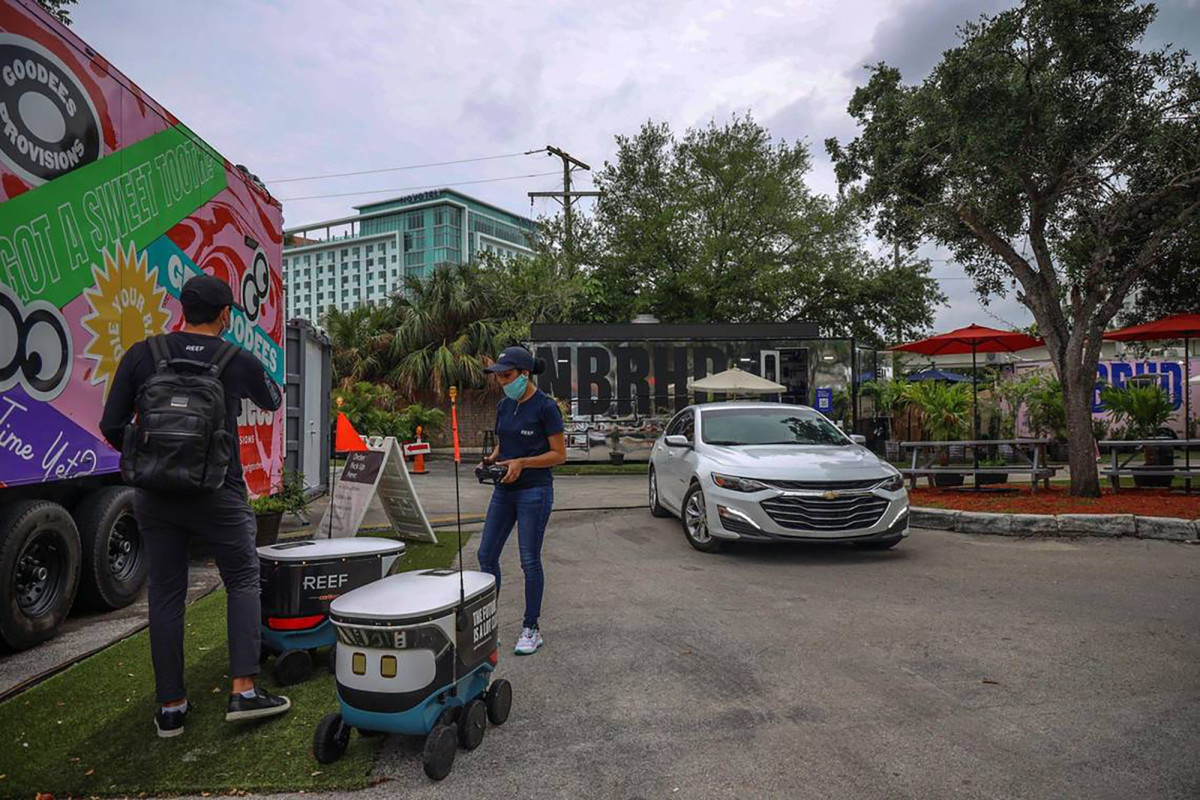 Customers can order their meals via Uber Eats and track it normally and then watch in amazement as a cooler-shaped drone delivers their order right to their door. 
The automaton uses cameras as its "eyes" to help it navigate its environment as the company claims that it is deploying "AI-powered" robots to the streets and sidewalks of L.A. 
Video one of those cameras captured was used by the Los Angeles Police Department in case that the company says resulted in a criminal conviction, according to a report based on emails obtained through a Freedom of Information Act request made by 404media. 
The LAPD blocked efforts to find out more about case specifics, and an incident report was denied by the law enforcement agency, but Serve Robotics provided the police with robot camera footage "and a letter confirming the cost of the robot," according to an email. 
Serve Robots told 404media that the case in question involved the attempted theft of one of its delivery robots and it was compelled by subpoena to provide video evidence of the crime. 
"In accordance with Serve's privacy policy and relevant laws, the robot's camera feed is routinely deleted, unless there are compelling safety or security concerns," the company said. 
Uber didn't immediately respond to a request for comment. 
Serve Robot went on the offense and published the video in question earlier this week. 
Re-uploading the video; turns out you can't cross post from Tiktok! pic.twitter.com/EeA9gF4mmG— Ali Kashani (@ahkashani) September 28, 2023
But further communications between the company and LAPD suggest that their partnership is only just beginning as the company reached out to the department in order to stem the tide of vandalism against its robots (which reportedly aren't very popular in the neighborhoods in which they operate). 
What's Your Reaction?