Lakme Fashion Week 2023: Pallavi Mohan's 'Not So Serious' label present a fashionable journey of style and beauty
Lakme Fashion Week 2023: Pallavi Mohan's 'Not So Serious' label present a fashionable journey of style and beauty
Pallavi Mohan's latest collection titled "My Journey….Just the Beginning" at Lakmé Fashion Week in partnership with FDCI revealed the creative ethos of her brand 'Not So Serious' in a stylish format.
Pallavi's 15-year journey in the fashion world has always been grounded by her love for nature and valuable knowledge of textiles. The legacy of her textures has been taken forward in her showcase collection. Her journey as a textile designer – using laser cut techniques, 3D flowers and playing with layers and sheers, since her university days has become the core of her brand's DNA.
Opening the ultra-glam "Not so Serious" show was lovely Harnaaz Kaur Sandhu, Miss Universe 2021, who looked stunning in a royal purple, sleek, sequinned gown, edged with feathers and a feathered wrap for added drama.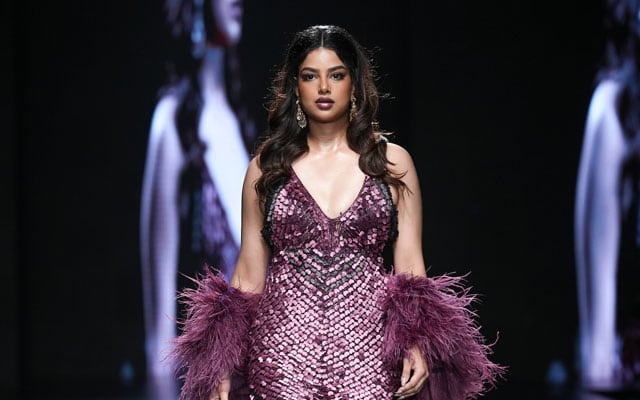 Pallavi's visual romance with flowers and nature has always been translated into 3D embellishments and surface ornamentation along with ingenious crafting of laser cut flowers. Her new collection was a grand album of Pallavi's traditional techniques that brought the 3D floral hand appliqués to striking life in gorgeous pastels and multi coloured tones.
There was a mélange of hues like aqua, earthy moss green, pretty vanilla peach, soft blush, sage green, striking navy blue and mustard that moved gracefully into neutrals like grey, metallic ecru and shades of denim blue.
Clever layers of the laser cut textures were eminent on the billowing sheer and mesh fabrics. Luminous fabrics played a tantalising game with sheer and peek-a-boo textures. It was the beauty of sheer organza, French tule, the very exotic high sheen velvet, silk satin and twill along with tones of denim and fake leather, which created a visual impact on the runway. The line of great formal wear offered amazing mix and match possibilities with unique directions.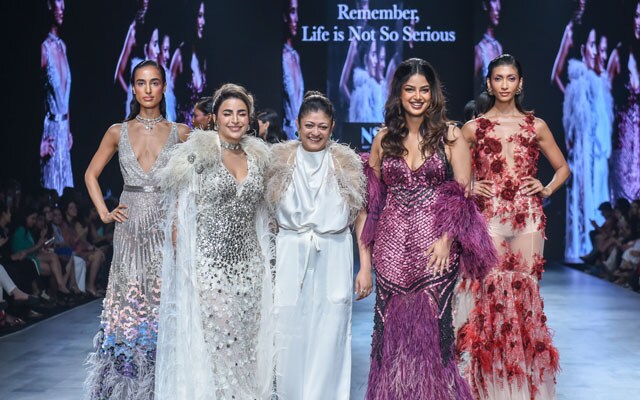 Detailing for Pallavi was all about dreaming up visuals like mints and hints of Anthracite, while hues of lilac and deep burgundy, as well as an array of salmon moved gently into shades of black.
Designer Pallavi Mohan shared, "My journey as a designer had its beginnings with FDCI (Fashion Design Council of India) and today, with the combined support of Lakmé Fashion Week in partnership with FDCI, it has become a powerful platform that has brought me recognition and personal growth.
Reflecting on my journey, it has been incredibly rewarding. Over the years, I've continuously strived to grow 'Not So Serious' as a brand, and I am grateful for the support of those who believed in us, especially in the early days. I began my career in 2009, not entirely sure of what I was doing, but with the support of mentors like Mr Sunil Sethi and the fashion community, I gained confidence.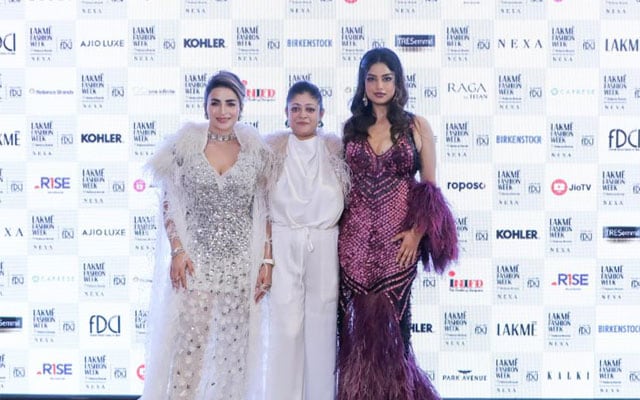 Today, as I celebrate 15 years of 'Not So Serious', I am proud to be a part of the Lakmé and FDCI family. Together, they have made our journey stronger and more promising. My story is a testament to the power of perseverance and the transformative impact of platforms like Lakmé Fashion Week in partnership with FDCI on the Indian fashion industry."
Closing the "Not So Serious" show was the very gorgeous TV personality, Safa Siddiqui who looked amazing in a white gown splashed with silver sequins and a grand, feathered, floor-kissing robe.
Pallavi Mohan's "My Journey….Just the Beginning" for her 'Not So Serious' label ensured that the creative, individuality of the stylish fashionistas was brought to the forefront in her designs.
Read all the Latest News, Trending News, Cricket News, Bollywood News,
India News and Entertainment News here. Follow us on Facebook, Twitter and Instagram.
What's Your Reaction?