Personal or political? What's the reason behind Sonia Gandhi's temporary shift to Rajasthan?
Personal or political? What's the reason behind Sonia Gandhi's temporary shift to Rajasthan?
Senior Congress leader Sonia Gandhi is in poll-bound Rajasthan for a "personal" visit. The Congress has said Gandhi has shifted base to avoid the deteriorating air quality in Delhi.
However, the political implications of her visit remain. Rajasthan goes to polls on 25 November, while the counting of votes will take place on 3 December. Gandhi's trip is not perceived as merely personal given the desert state's tradition of ousting the incumbent government since the Assembly elections in 1993.
What is Sonia Gandhi really doing in Jaipur? Let's try to find out.
Sonia Gandhi in Jaipur
Sonia Gandhi and her son, Congress MP Rahul Gandhi, arrived in Jaipur late on Tuesday (14 November) night, along with All India Congress Committee (AICC) general secretary KC Venugopal.
"It is a private visit. There is air pollution in Delhi, that's why," Venugopal said when asked about the trip, according to PTI.
Confirming the "personal" visit, senior party leader Jairam Ramesh wrote on X, "Chairperson of Congress Parliamentary Party Sonia Gandhi is in Jaipur for the next few days to avoid the air pollution in New Delhi. It is a purely personal visit."
He also said that Rahul Gandhi will be based in Jaipur and go for campaigning in Chhattisgarh on 15 November. The Wayanad MP will canvass in Rajasthan on 16, 19, 21 and 22 November, Ramesh wrote.
नई दिल्ली में वायु प्रदूषण के कारण कांग्रेस संसदीय दल की अध्यक्ष श्रीमती सोनिया गांधी अगले कुछ दिनों तक जयपुर में हैं। यह उनका पूरी तरह से निजी दौरा है।

श्री राहुल गांधी जयपुर में रहेंगे और 15 नवंबर को छत्तीसगढ़ में और 16, 19, 21 और 22 नवंबर को राजस्थान में चुनाव प्रचार करेंगे।

— Jairam Ramesh (@Jairam_Ramesh) November 14, 2023
Sonia Gandhi has respiratory problems and has been suggested by her doctors to temporarily relocate to a place with better air quality, reported NDTV.
"This is not the first time she has left Delhi to avoid pollution. She has asthma-related issues and tries to avoid pollution. In 2020, she went to Goa for weeks when there was severe pollution in Delhi," a senior Congress leader told Hindustan Times (HT).
ALSO READ: Rajasthan Assembly Elections 2023: Will anti-incumbency throw out Congress from power?
Political meanings of the visit
With just days left for the Assembly elections in Rajasthan, Sonia Gandhi's trip is being seen by many as an attempt to fortify Congress' prospects in the state.
As per a report in Moneycontrol, opinion polls show that the Congress is losing the desert state to the Bharatiya Janata Party (BJP).
Her trip also gains significance as Rajasthan chief minister Ashok Gehlot's tussle with his former deputy Sachin Pilot could hurt the Grand Old Party's chances in the state. While the two have kept their differences aside for the polls, their rift as well as bids to present a united front continue to garner headlines.
Rahul Gandhi, who was welcomed by both CM Gehlot and Pilot after he arrived in Jaipur on Thursday (16 November), told reporters, "We are not only seen together but we are also united. We will be together and Congress will sweep the elections here and win."
#WATCH | Rajasthan Elections | CM Ashok Gehlot and Congress leader Sachin Pilot seen together with Rahul Gandhi, in Jaipur.

Rahul Gandhi says, "We are not only seen together but we are also united. We will be together and Congress will sweep the elections here and win." pic.twitter.com/sWezSuuv0X

— ANI (@ANI) November 16, 2023
This will be Rahul's maiden campaigning in Rajasthan since the announcement of elections, noted India TV. He had addressed the state unit Congress workers in September after laying the foundation stone for a party office building in Jaipur's Mansarovar area.
While Congress general secretary Priyanka Gandhi Vadra has held several rallies in Rajasthan, her brother was focusing on other poll-bound states.
As per an Opinion piece in India Today, the Gandhi family "feel accountable" for the Rajasthan Congress and "somewhere feel responsible" for Gehlot taking over the chief ministerial post after Congress' victory in the 2018 Assembly polls despite Pilot having Rahul's blessings.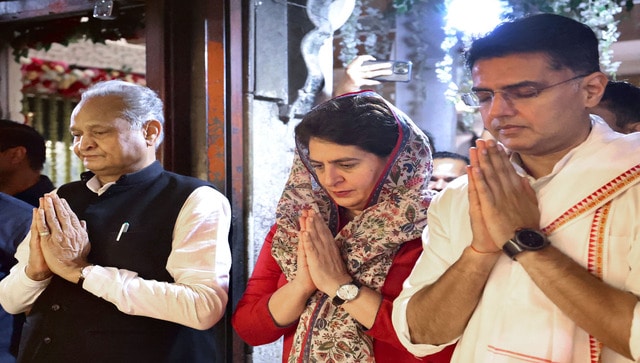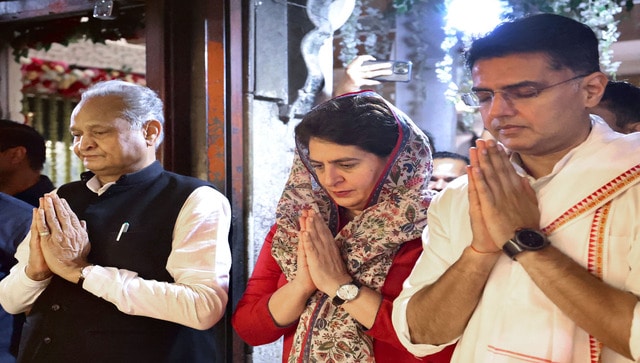 However, much has changed since then. The Congress high command has been "upset" with CM Gehlot since his loyalists revolted against the party's directive to attend a Congress Legislature Party (CLP) meeting last September. The defiance of dozens of Rajasthan Congress MLAs had led to Gehlot retaining his post instead of becoming the next party president. It also upstaged the top brass' plan to elevate Pilot as the state CM.
Pilot, who led his own failed rebellion in 2020, is back in the good graces of both Priyanka and Rahul after the CLP debacle, as per the Moneycontrol report. It is also believed the Congress high command is still upset with Gehlot, who was otherwise considered a staunch loyalist of the Gandhis.
"Congress insiders say Sonia's presence in Jaipur till 22-23 November, that is when the campaigning ends, is aimed at enthusing the Rajasthan party cadre, signalling to Gehlot and Pilot to give their best. In return, Rahul and Priyanka, who will be in attendance for Sonia, try to attract the voters with road shows and public meetings," the India Today article mentioned.
According to the Opinion piece, amid dismal findings of the poll surveys, the Congress "under matriarch Sonia does not want to get the blame for not trying hard to retain Rajasthan".
With inputs from agencies
What's Your Reaction?