The critical differences between Elon Musk's first and second Starship flight
SpaceX finally sent its Starship rocket on a second test flight Saturday.
After being tied up for months in regulatory review processes, SpaceX's Starship — a 400-foot-tall vehicle meant to bring humanity to Mars — took off in its second test flight at approximately 8 a.m. ET Saturday. 
The uncrewed mission flew for more than seven minutes, successfully separating from its booster before being intentionally destroyed in what the company calls a "rapid unscheduled disassembly." 
The rocket had just made it into space. 
Related: Elon Musk shares exciting updates about the future of interplanetary travel
Despite its fiery conclusion, the mission, according to SpaceX and CEO Elon Musk, was still something of a success. 
"With a test like this, success comes from what we learn, and today's test will help us improve Starship's reliability as SpaceX seeks to make life multi-planetary," SpaceX said in a statement following the launch. 
The Federal Aviation Administration noted in a statement that the explosion did not result in any injuries or property damage. The agency said that it would oversee a mishap investigation into what went wrong, an investigation that the FAA will need to conclude before Starship can fly again. 
Starship liftoff in slow motion pic.twitter.com/PuWMVyU6Lc— SpaceX (@SpaceX) November 18, 2023
The investigation is a standard procedure undertaken by the FAA and designed to determine the root cause of an event and identify corrective actions to prevent the same incident from occurring again. 
The FAA said that it will be involved in every step of the investigative process and "must approve" SpaceX's final report and corrective actions. 
A third Starship launch is reliant upon the FAA determining that "any system, process, or procedure related to the mishap does not affect public safety," the agency said in a statement. 
Related: Elon Musk says SpaceX will fly its second Starship test this week
The first launch VS the second launch 
SpaceX launched Starship for the first time on April 20. The rocket got off the launchpad, flying for around four minutes before exploding without quite reaching space. 
The launch additionally destroyed SpaceX's launchpad, hurling debris over the surrounding area. 
In the nearly seven months since, SpaceX has made more than 1,000 changes to the design of the rocket, according to Musk. 
Among these changes was a different approach to the launchpad, done to avoid its destruction, as well as a new approach to stage separation, called "hot staging." 
Tracking camera views of hot-staging separation pic.twitter.com/wcCidOh5K0— SpaceX (@SpaceX) November 18, 2023
In hot staging, the engines on the upper stage begin to fire before those on the initial stage have ceased firing. This design change was successful on SpaceX's second flight. 
After Starship's Saturday flight, Musk said that the launch pad is in "great condition."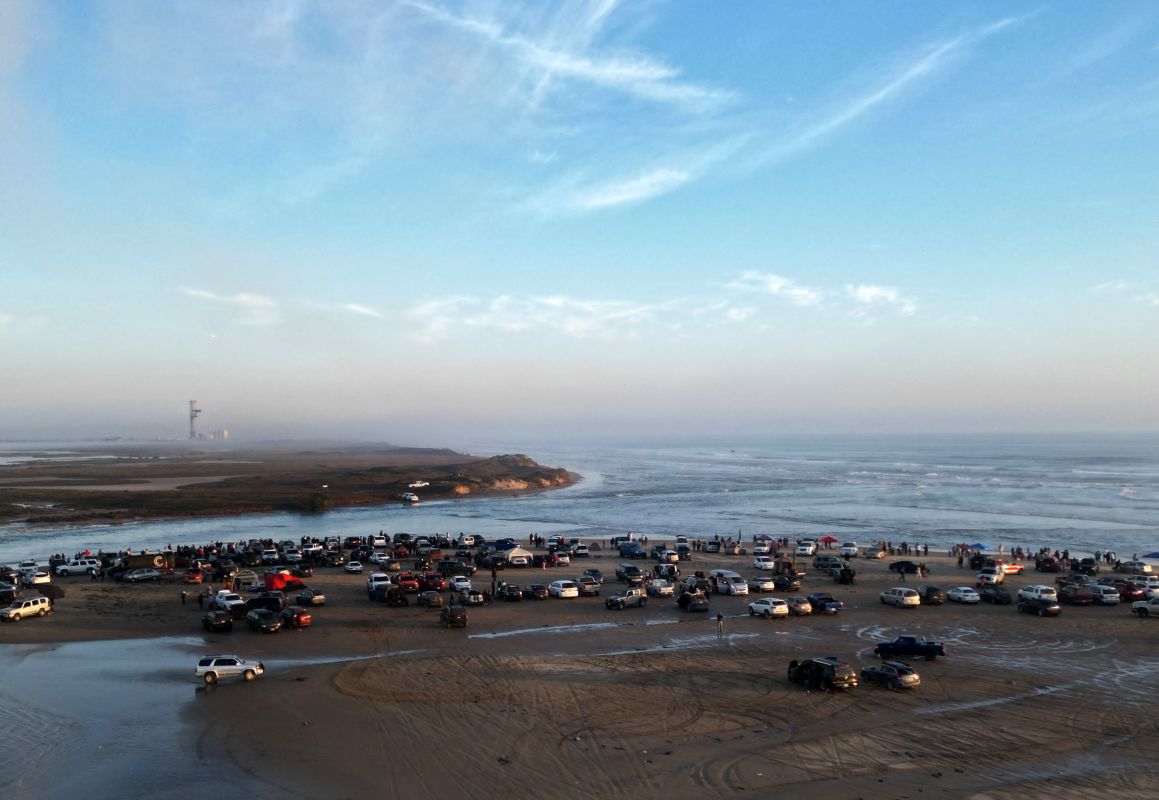 "No refurbishment needed to the water-cooled steel plate for next launch," he said. 
Musk said Sunday that Starship Flight 3 hardware should be ready to fly in the next three to four weeks. He noted that the company has three ships in final production. 
Musk said in October that he expects SpaceX to begin using Starship to launch satellites into orbit within the next year. The most difficult step in the Starship process, he said, involves solving for safe ship reentry, something that satellite launches are not contingent upon. 
NASA Administrator Bill Nelson congratulated SpaceX on the flight Saturday. 
"Spaceflight is a bold adventure demanding a can-do spirit and daring innovation. Today's test is an opportunity to learn — then fly again," he wrote in a post on X. "Together NASA and SpaceX will return humanity to the Moon, Mars & beyond."
Related: Why Elon Musk feels the need to guide humanity to Mars and beyond
Musk's urgent Mars mission
The second Starship flight came in the wake of a Reuters report into SpaceX's workplace, which found that a combination of aggressive deadlines and lax safety protocols have resulted in more than 600 worker injuries since 2014. 
"Elon's concept that SpaceX is on this mission to go to Mars as fast as possible and save humanity permeates every part of the company," Tom Moline, a former SpaceX senior avionics engineer told Reuters. "The company justifies casting aside anything that could stand in the way of accomplishing that goal, including worker safety."
Starship is the prime example of Musk's Mars mission — the rocket is designed to carry thousands of tons of material in addition to a 100-person crew to Mars. 
Starship liftoff through successful hot-stage separation pic.twitter.com/L2bH1pJZ2s— SpaceX (@SpaceX) November 18, 2023
Musk's urgency around this mission revolves around the idea that some time in the next few billion years, the sun will die and life on Earth will cease to exist; the only way for humanity to survive is for it to become multi-planetary. 
At the same time, the business of aerospace is one that significantly impacts climate change here on Earth, by injecting heavy quantities of soot and ash into the upper layers of the atmosphere, inciting more global warming. 
Musk last week came under fire for highlighting and posting antisemitic content on X, the social media platform that he purchased last year. A steadily lengthening list of prominent companies have ceased advertising on the platform in response. 
Related: Investors have finally had enough of Tesla CEO Elon Musk
Get investment guidance from trusted portfolio managers without the management fees. Sign up for Action Alerts PLUS now.
What's Your Reaction?